For Canadian/Mexican customers: please contact us before placing an order.
---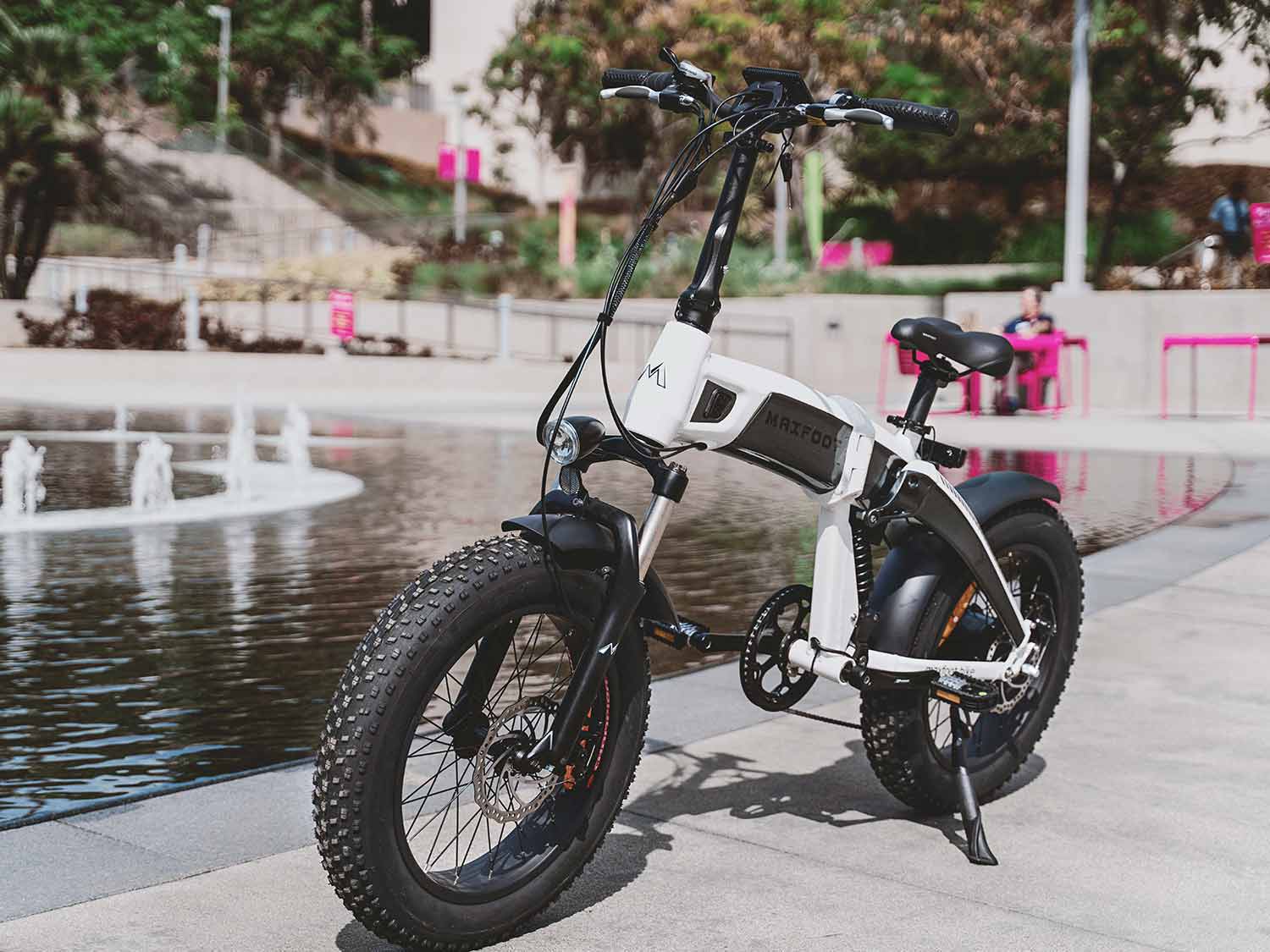 ---
Bafang 1000W Brushless Geared Hub Motor
Panasonic 48V 14Ah Lithium Battery
---
Unique Six-Bar Linkage Suspension
---
The powerful six-bar linkage rear suspension is a unique technology of Maxfoot, which has exclusive appearance patents in the United States and Europe. With the use of the six-bar linkage rear suspension and the front fork suspension, you will only feel extremely comfortable when riding. Because the MF-19 P series with six-link rear suspension is a true soft-tail electric bicycle. Conquering all kinds of terrain is no problem for it.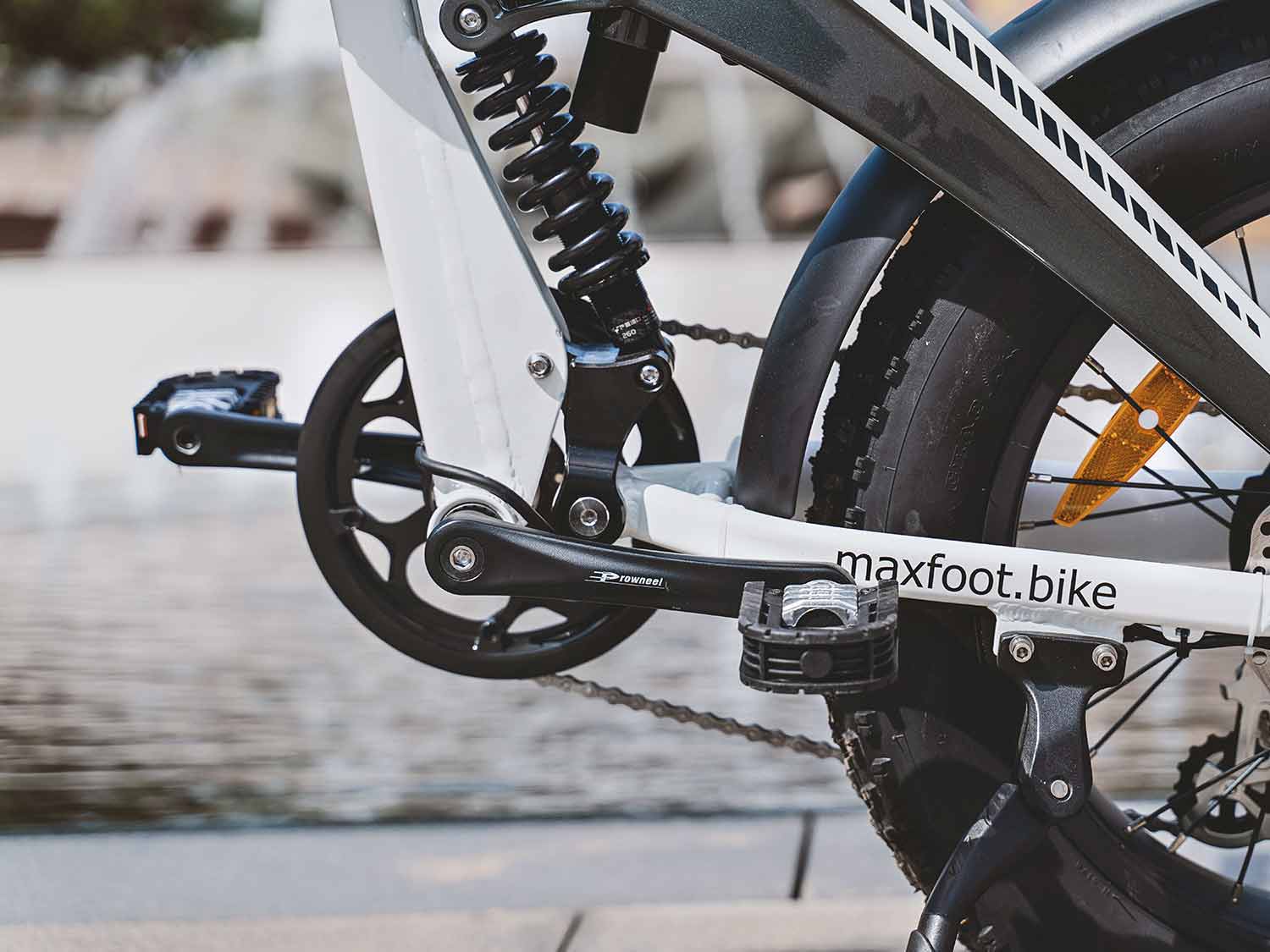 ---
---
The unique design hides the battery in the frame, which can protect the battery from water and dust and other factors to a greater extent. There is no need to remove the battery when charging, you can charge the battery through the reserved place on the frame.
---
Shimano 7-Speed Freewheel
---
A wider range of gearing at your disposal means more torque for treacherous uphill climbs and maintain pedal authority at top speed. Conquer various terrains easily.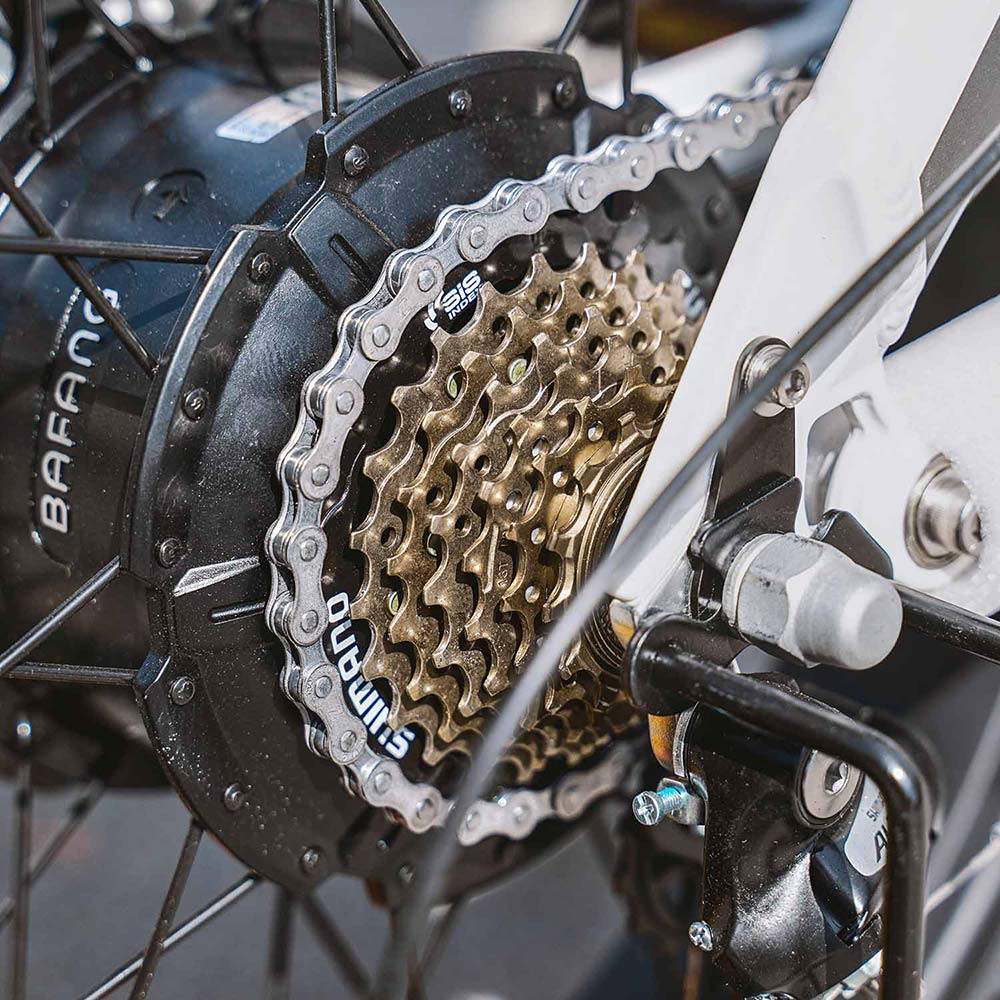 ---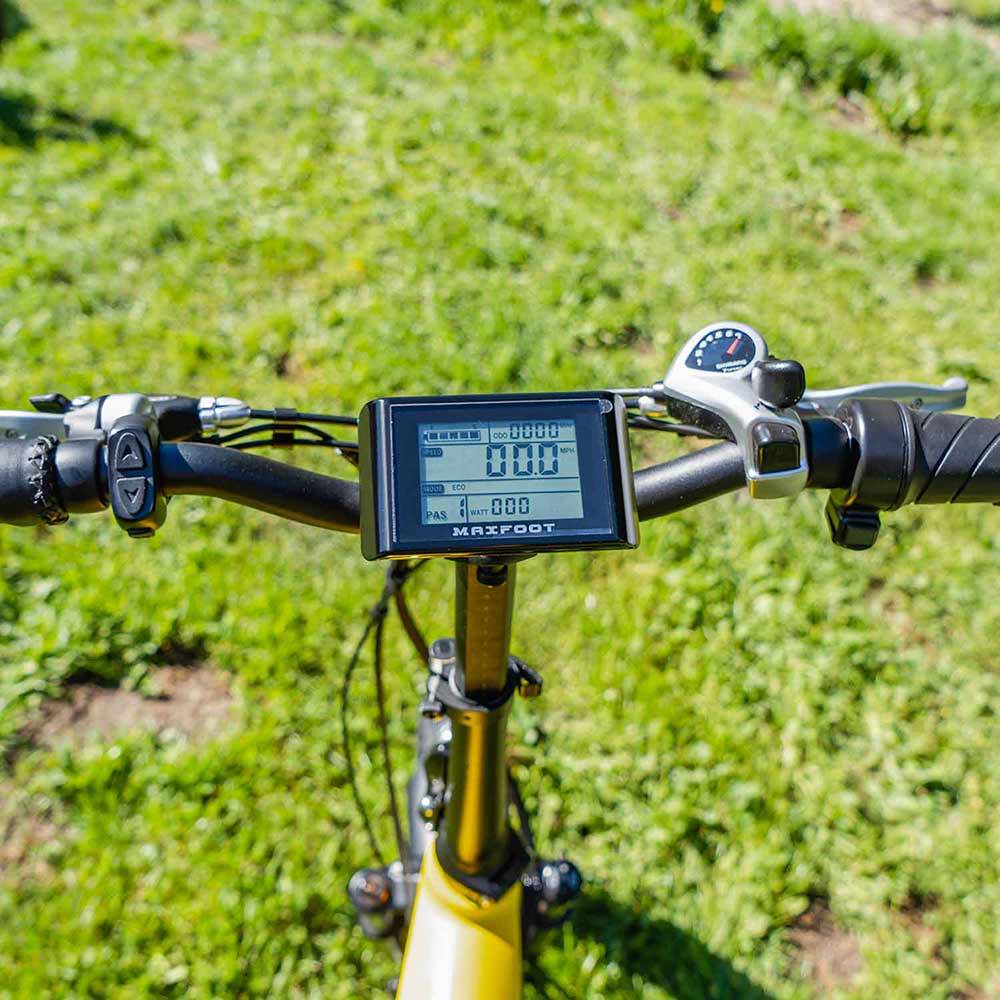 Maxfoot 5 Inch LCD Display
---
Maxfoot LCD display shows very clear, and the parameters are complete. You can clearly check the status of the bicycle even when riding in the hot sun. At the same time, it comes with a USB port. You can charge your mobile device through the display when you need.
---
---
The folding Hinge simplifies the unlocking mechanism as much as possible while preventing accidental unlocking and ensuring safety. It is solid and secure after locking, and very simple when you need to unlock it.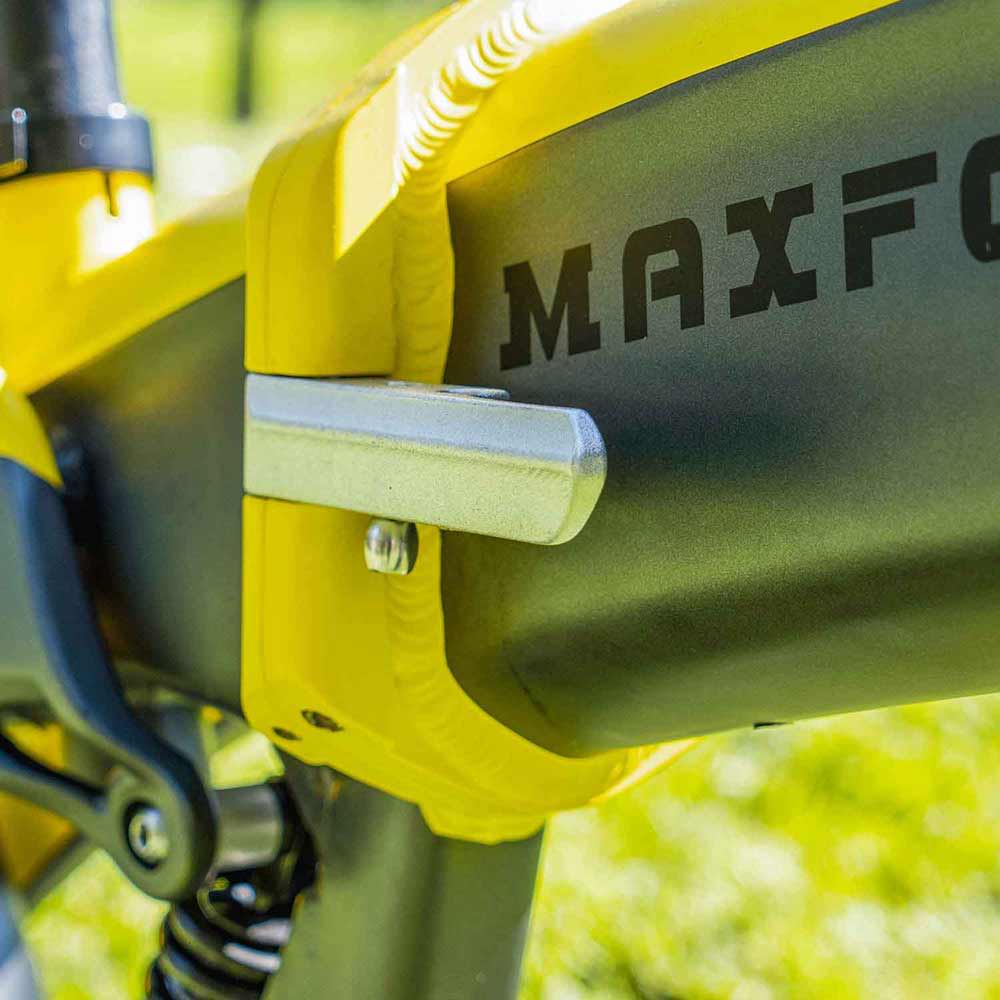 ---
---
Powered by the main battery pack and features highlight brake light functionality that will be activated any time the brakes are applied.
---
Panasonic 48V 14AH Lithium Battery
1000W Brushless Bafang Geared Hub Motor
Variable Speed Control - 1/2 Twist Throttle
Maxfoot 5 Inch LCD Display With USB Port
Maxfoot 25A Overall Waterproof Controller
Water-Resistant Connectors and Wiring Harness
6061 Aluminium-Alloy Frame
Six-Bar Linkage Rear Suspension
Tektro Mechanical EL555-RT/EL550-RS
Tektro 180mm F/R Alloy Disc Brake
Shimano M-310 derailleur & 7 Speeds gear
Rated For 800 Charge Cycles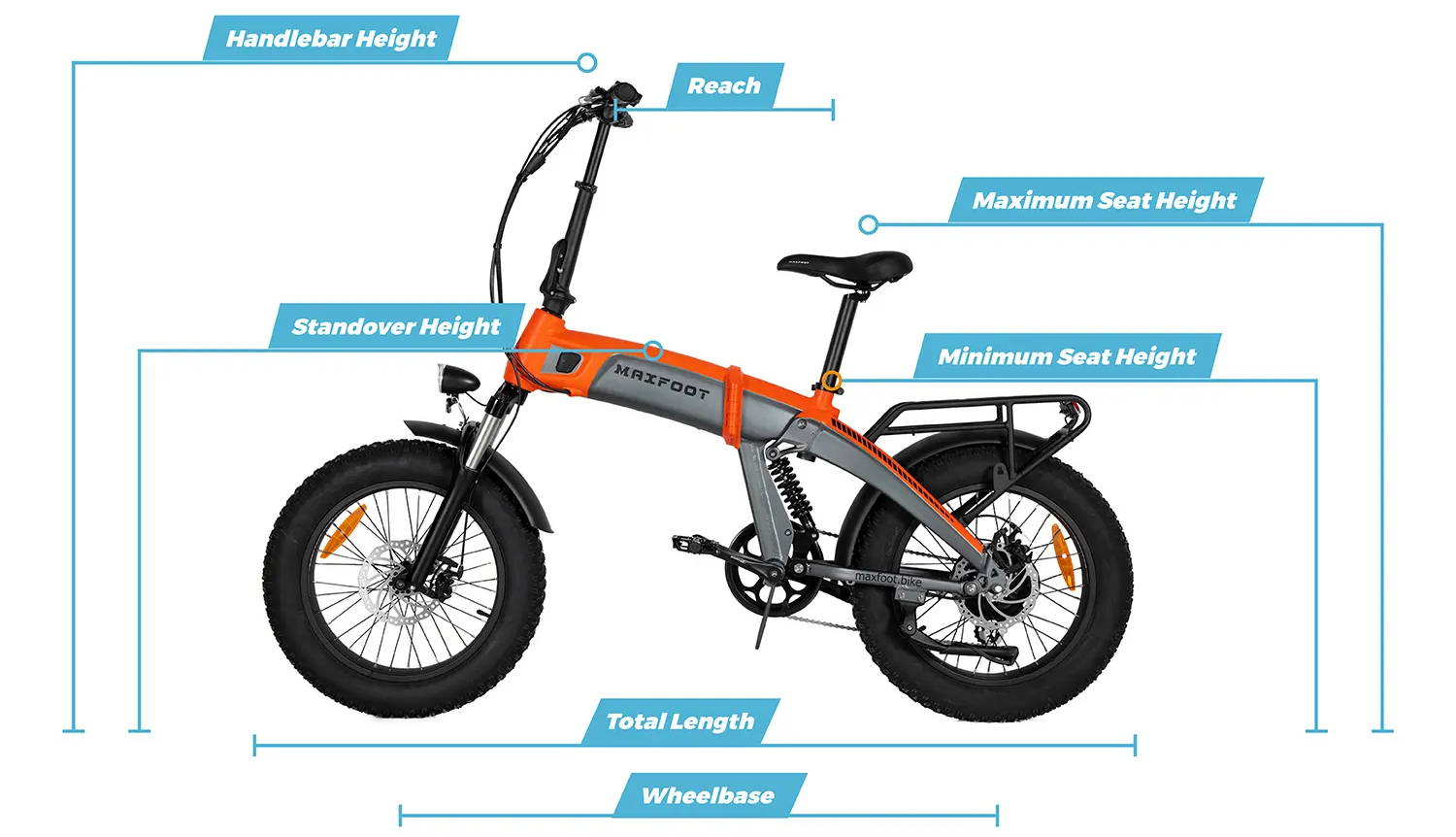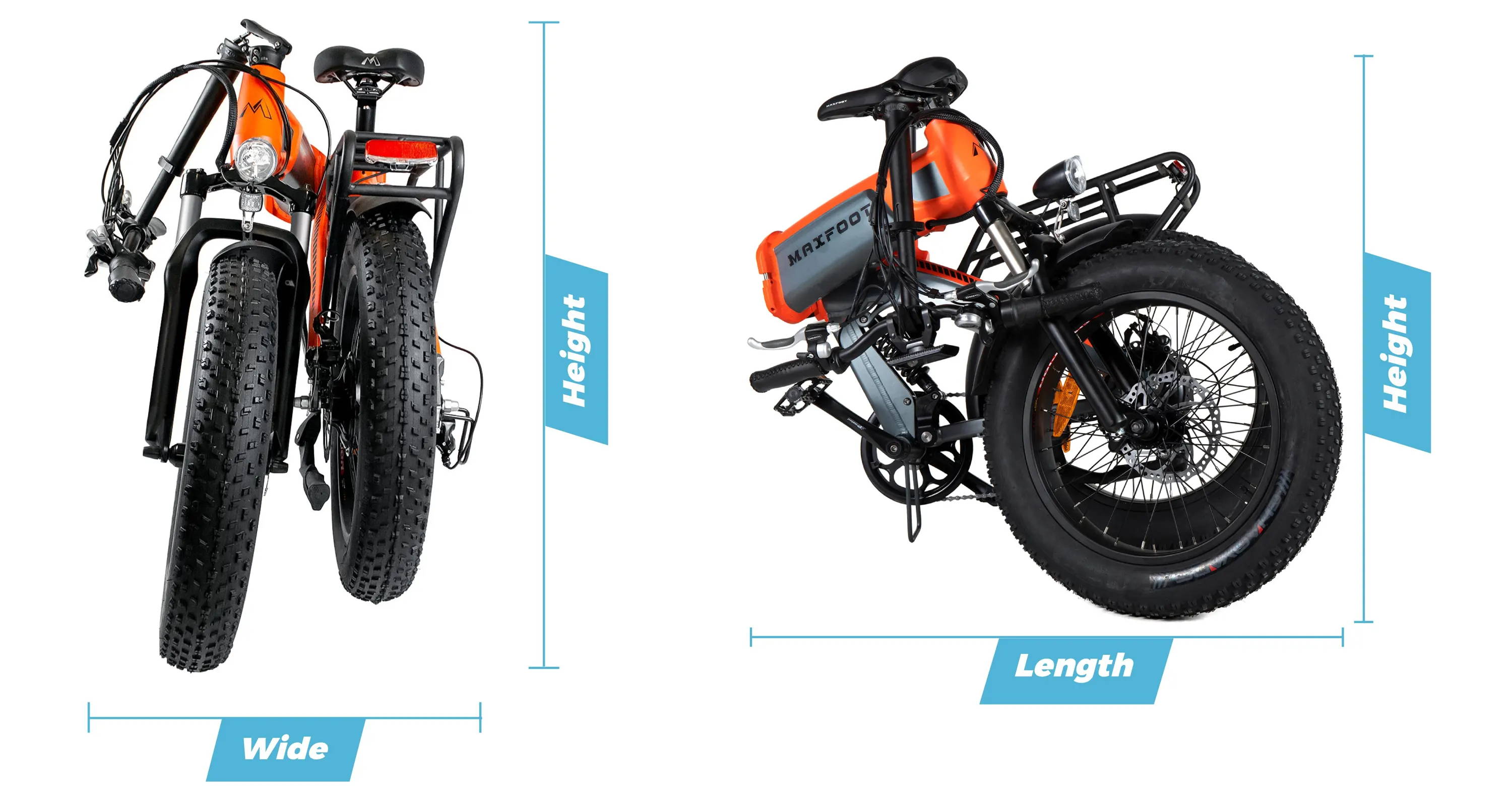 Recommended Rider Heights  
34.5" - 38"
(Measured from bottom of the pedal stroke)
Folded Dimensions (LxWxH)
---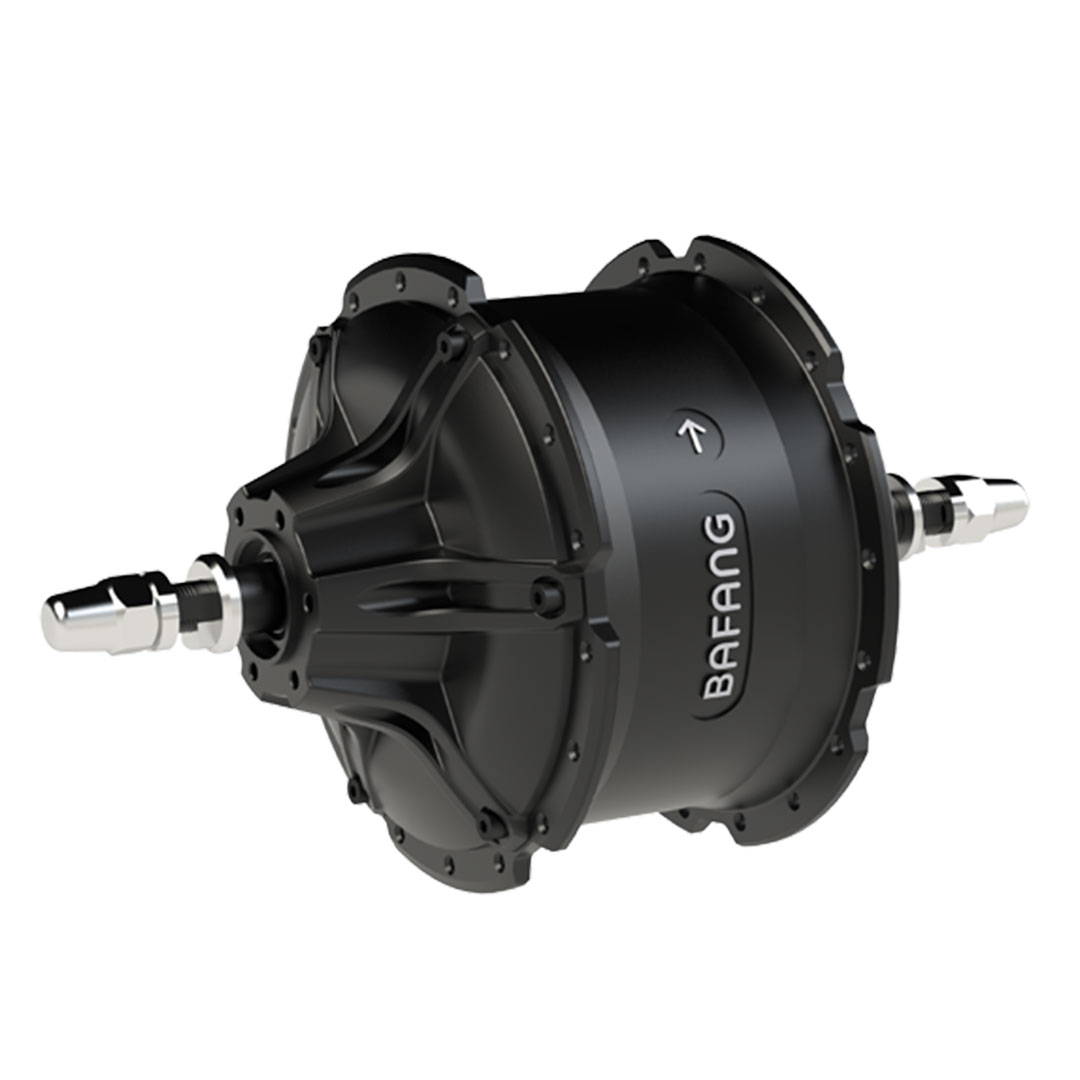 Bafang Brushless Geared Hub Motor
With 1000W at your disposal, this Bafang brushless geared hub Motor is what is going to help power you up steep inclines and get you up to top speed quickly from a dead stop, all while remaining quiet and inconspicuous.
---
The large-capacity battery from Panasonic provides strong energy support for the MF-19's riding range. With PAS system, the riding range can even reach an amazing 60 miles. You just have to ride and don't need to worry about battery range.
2 months and still no ebike
Fedex lost my ebike, maxfoot cares nothing, im out almost 2K , i call and maxfoot does not take my calls Ive asked for a manager at maxfoot to call me and i get no call. Time I take legal action.
Love The Bike...But They Need Better Instructions
This bike is fantastic but I would highly recommend that the instructive videos and the written instructions get updated. Also, instructions for how to use features on this bike should be added.....you have to find how to turn the light on from blogging the issue. Love the bike!
Satisfied Customer
I am having great fun my new bike. I highly recommend this bike. I seldom am as satisfied as I am with this product! Good work guys!
Amazing Bike
This is an absolutely beautifully engineered ebike! It's so fun to ride, easy to use, super powerful, and all around amazing. Great job Maxfoot!
Go every wear
I can ride on the battery for 20 miles or bike assist which is peddling and motor for 80 miles.You have the option to peddle without the motor which is really difficult because their are 2 4inch tires called fat tires that make it hard to ride the bike by itself.fyi after you assemble the bike make sure all cables are connected together especially the motor cable that runs down at the bottom of the bike by the kick stand.This is not connected the motor stops but you will have a reading on the lcd screen showing wattage but no power.