Zoom the image with mouse
Ask An Expert
[Preorder] [750W] Maxfoot MF-30 Electric Trike
For Canadian/Mexican customers: please contact us for quoting shipping cost.
The MF-30 electric cargo trike is a powerful electric trike that is the most affordable one with the same configuration on the market.
With a 750W high-torque motor and 50-65+ miles range of battery, you can feel the stability of 3 wheels and change your life.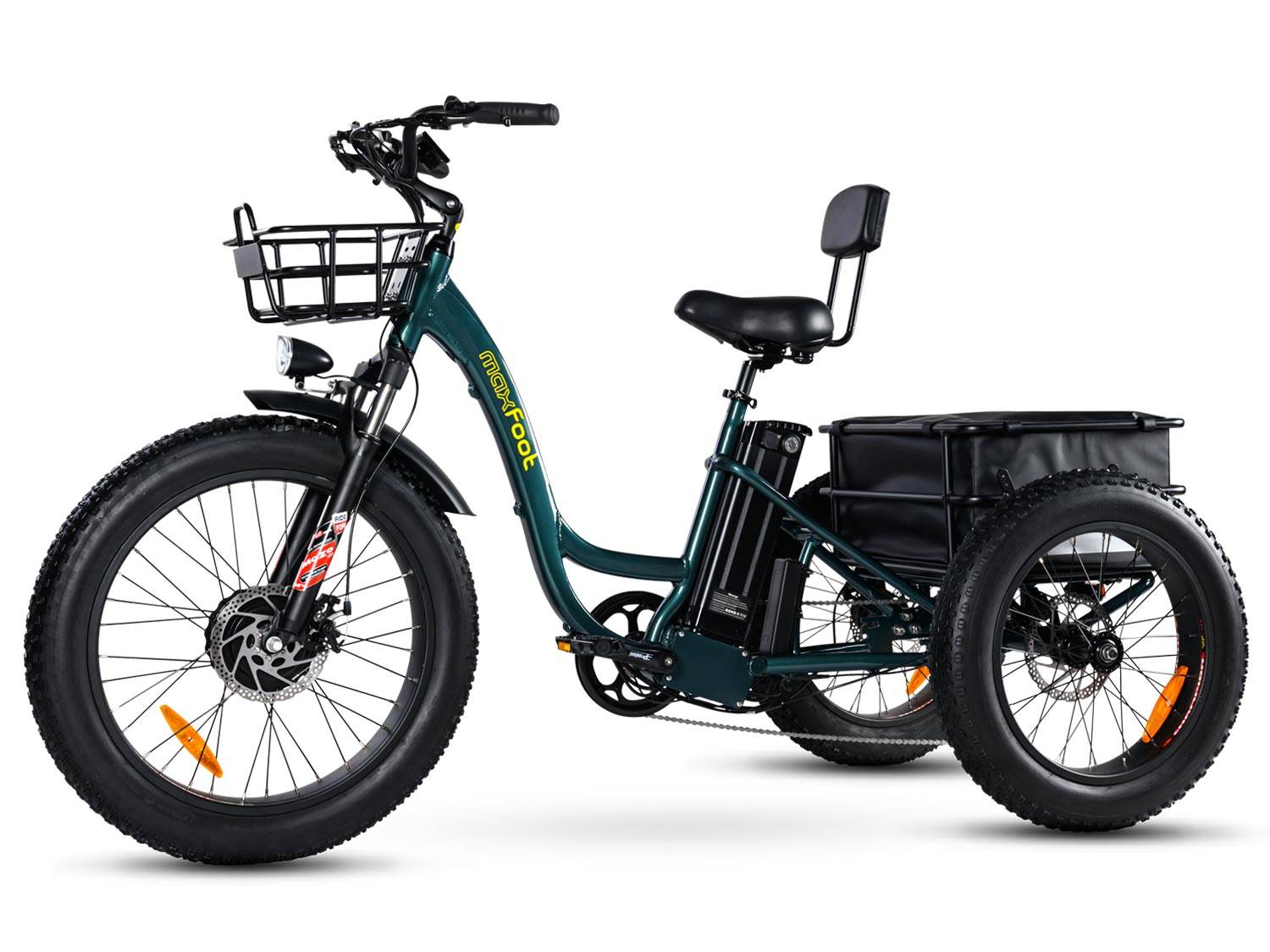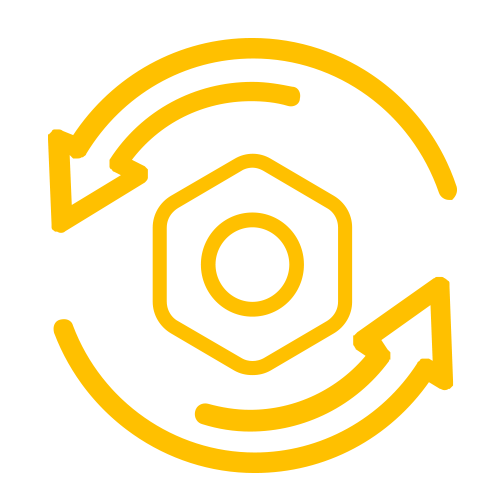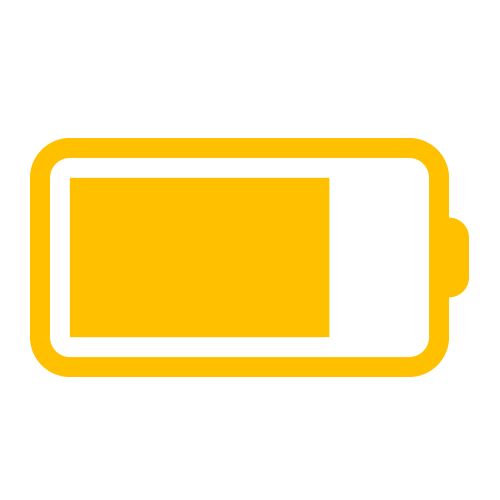 48V -16 Ah
Lithium-lon Battery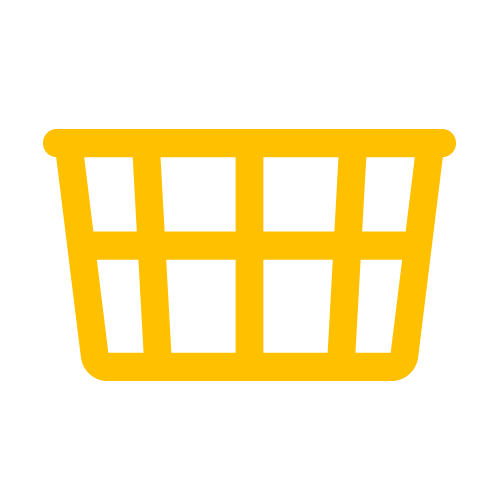 Technical Specifications
Waterproof Rear Basket Bag

Special waterproof bag for the rear basket, perfectly fits the rear basket, providing a large-capacity waterproof storage space of 48L.

Thick Comfortable Seat

The uniquely designed thick padded saddle can improve riding comfort. With the backrest of the seat, you will get a comfortable riding experience.

Dual Disc Brake

All wheels are equipped with 180mm disc brakes, which effectively prevents rollover. When you brake, the brake disc can be sensitively held tightly according to your needs.

Step-Thru Frame

To build for more riders, the step-thru frame design is one of the key features of MF-30. Whatever who you are, you can span the frame and get on the trike easily.

Bafang 750W Hub Motor

Bafang 750W high-torque motor provides MF-30 a powerful motivation. Its torque can reach 80N.m, means that it can pass through most terrains easily even there are many goods on your trike

Panasonic Lithium Battery

Panasonic 48V 16Ah high capacity battery provide energy for the electrical part of MF-30,it can support MF-30 go around 50-65 miles ( with PAS 1 ).
Panasonic 48V 16AH Lithium Battery
750W Brushless Bafang Geared Hub Motor
Variable Speed Control - 1/2 Twist Throttle
Maxfoot 5 Inch LCD Display With USB Port
Maxfoot 25A Overall Waterproof Controller
Water-Resistant Connectors and Wiring Harness
Integrated Headlight and Brake Light
Intelligent 5 level pedal assist With an integrated speed sensor
Front of frame: 6061 Aluminium-Alloy Frame
Rear of frame: 7A19 Aluminium-Alloy Frame
Maxfoot 50mm Max Travel Suspension Fork
180mm Disc Brake (Front *1 / Rear *2)
Dual power-off brake levers
Thickened saddle with backrest
Aluminium-Alloy Front Fender
5-6 Hours. Depending On The Battery Status
Electric Trike 350lbs + Rear Rack 100lbs
Rated For 800 Charge Cycles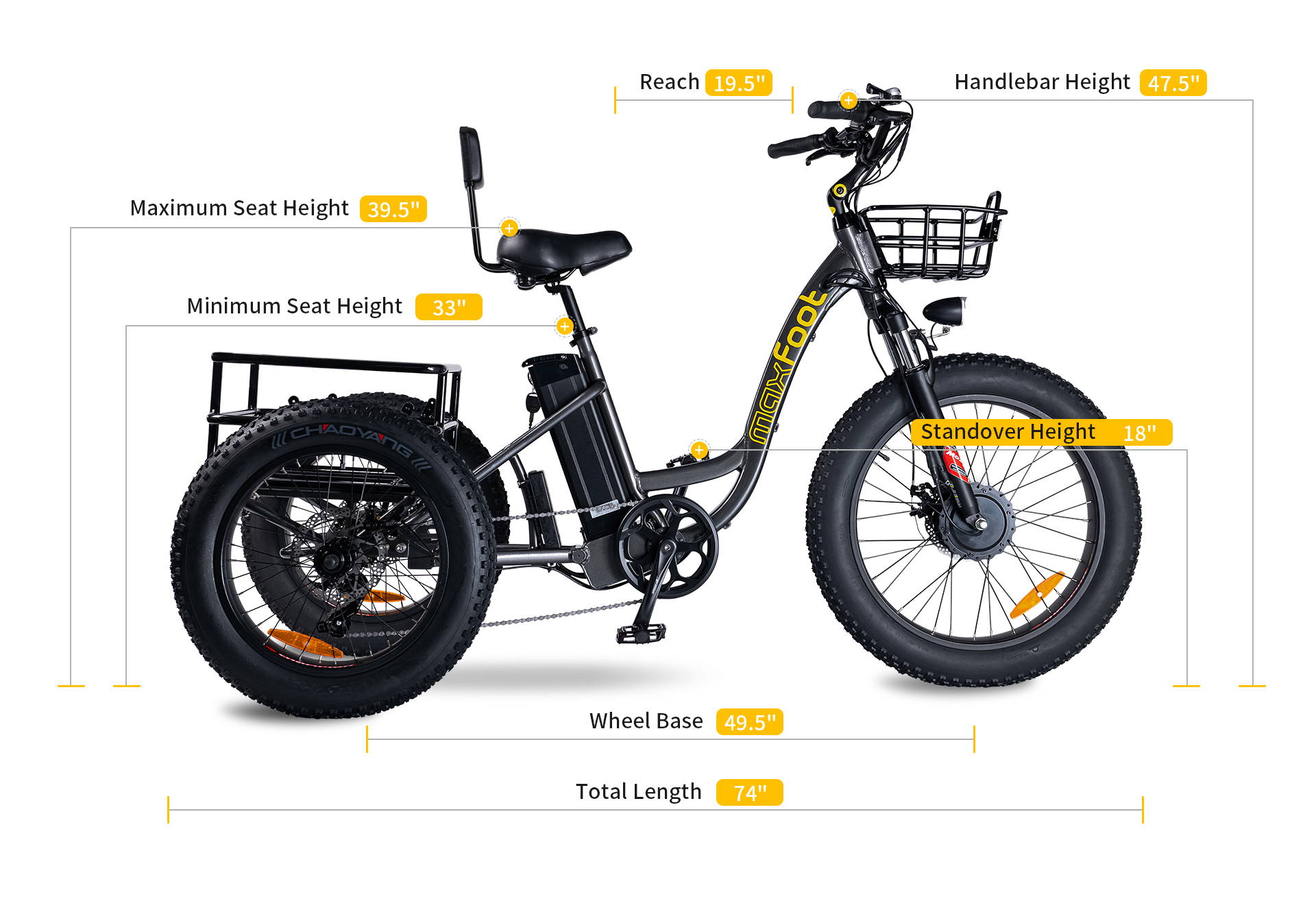 Recommended Rider Heights  
44.3" - 46.5" (adjustable)
33.5" - 40.5"
(Measured from bottom of the pedal stroke)
Accessories For The Trike
Abundant optional accessories can fully enhance your riding experience
Maxfoot offer free shipping to all 48 Contiguous States in the United States

1.Processing Time
Your in-stock order will be shipped out from our warehouse within 1 to 2 business days after we received your confirmation email. Also order placed on the weekend, holiday or order received and confirmed after 1 pm on weekdays will be processed the next working day.

2.Transit Time
Once the item been shipped, you will receive the tracking number immediately to the email provided to us during checkout. You also have an option to check the updated info in your Maxfoot account. Delivery times will vary depending on how far the destination is from our El Monte warehouse.

Are you living in Hawaii or Canada? No worries, even we can't get you the Free Shipping but we promised we will not charge you any penny more than the shipping carriers quote us. Please send us an email and we will be very happy to get you a quote to your shipping address.

Who Shipped My Products?
We ship via UPS and FedEx ground for most electric bicycles, USPS for small parts and accessories(signature not required), and Road Runner and Estes Express freight for mopeds and tricycles. We order signature required delivery on every bike order over $300. You will need to have someone over the age of 18 present at the time of delivery to sign for the order.
MAXFOOT Warranty

Regarding all models:
Every E-bike is covered under warranty for the original owner against all manufacturing defects in material or workmanship. Warranty parts will only be shipped within the continental United States and Hawaii.


1.MAXFOOT E-Bikes Limited 1-Year Warranty:
Electrical parts: motor, battery, controller, LCD display - 1 year
Mechanical parts: forks, stem, handlebar, headset, seat post, saddle, brakes, lights, bottom bracket, crankset, pedals, rims, wheel hub, freewheel, cassette, derailleur, shifter, throttle, wiring harness, kickstand, reflectors, and hardware – 2 years technical support

Remark:
If you purchased a bike and had it then shipped to another country, parts will only be sent to the country in which the bike was originally sent.


2. What Will We Do to Correct Problems with Your E-Bike?
If a component is deemed to be defective or damaged without user error or abuse we will issue a replacement part. We will assist you in replacing any defective part.
We will replace any parts deemed to have been damaged during shipping.
We will provide the owner with a replacement product if the product cannot be repaired after a reasonable number of tries attempts as determined by MAXFOOT E-Bikes.


3. Warranty Exclusion:
Normal wear and tear are not covered under warranty for components.
The battery warranty does not include damage from power surges, use of improper chargers, improper maintenance or other such misuses, normal wear or water damage.
Inappropriate use / maintenance / operation / transport / upkeep (refer to manual / instructions)
Damage resulting from omitted or incorrect adjustment(s) or worn components.
Terms of Warranty
This warranty only applies to the original owner of a MAXFOOT E-Bikes bicycle.

Only in extreme cases will an entire replacement bike be issued, in these cases the original bike may have to be shipped to the MAXFOOT E-Bikes facility for inspection/repairs before a new bike is sent out.

If repairs can be made, a new bike will not always be sent.
It does not cover the installation of parts or accessories not originally intended or compatible with the bicycle as sold, operator error, abuse, water damage, extreme riding, stunt riding, or improper follow-up maintenance.
This warranty does not include consumables or normal wear and tear parts (tires, tubes, brake pads, cables and housing, grips, chain, spokes).
In no event shall MAXFOOT be responsible for any direct, indirect or consequential damages, including without limitation, damages for personal injury, property damage, or economic losses, whether based on contract, warranty, negligence, or product liability in connection with their products.


4. Claims
All claims to this warranty must be made through MAXFOOT. Proof of purchase may be required with any warranty request. Before making a warranty claim, we suggest that you contact our Technical Support team at support@maxfoot.bike as there may be a simple fix for your problem.

Valid warranty claims will be processed through MAXFOOT Bikes within one year of initial purchase. Warranty claims may be submitted to support@maxfoot.bike.



5. Shipping Damage Claims
Note any damage to your product(s) on the Bill of Lading before you and the driver sign-off on the shipment.
Take pictures of any damage that is found, and date the images when possible.
Keep all packaging and paperwork until the inspection process is complete.
Report damage claims within 10 days of delivery to a MAXFOOT customer service representative. Please contact our Technical Support team for return/replacement instructions at:
support@maxfoot.bike
Tel: 818-305 6122


6. What Will We Not Do?
MAXFOOT will not replace any part without first seeing photos or video of the damaged part.
We will not offer the warranty service to second owners.
We will not replace any part damaged by the user.
We will not pay for any third-party service or part replacement unless agreed upon prior to the fix.
MAXFOOT will not cover any damage that may occur during shipping if the owner sets up their own shipping option or if the bike is shipped using a freight forwarder or similar service.
Please note that the return and refund policy only applies to the e-bikes purchased from our official website.


If the product is damaged or defected upon arrival, please contact the MAXFOOT e-bike support team. They will determine whether the product can be repaired or not, and initiate the exchange process if it is not repairable. In that case, please kindly make sure that the product is returned with its original packaging. We will send you a new bike after we received the old one. The time for you to receive the new bike may vary depending on where you live.

If the product is intact upon delivery, but you do not like the bike and would like to return it. Please kindly send the product back in its original packaging after getting permission from Maxfoot. We will charge 20% handling and shipping fees from the total amount, and refund the rest to your credit card.

Remark:
1. If you are shipping an item over $75, please consider using a trackable shipping service or purchasing shipping insurance. We don't guarantee that we will receive your returned item.
2. All returns will be inspected for damage. Please package your return item properly to make sure no damage incurs during the return shipping process.
3. If the product is new and intact, a refund will be issued to your credit card in about 7-10 business days.

MAXFOOT, retain the final rights for any returns or refunds.
She said, "yes"!
I love my etrike! The stability of a three wheeler means I can finally leave my house without a cane. The fat tires make the urban trails and the sandy beaches possible for me again!
I really like the three disk brakes! Stopping is good!
Gotta say that I'm loving all the "marriage proposals" the etrike gets me! Everywhere I go, people stop me with huge smiles when they see me, and lingering, loving, glances as I ride away.💕
Seat uncomfortable
Any way to get a bike seat that has extra inches in the back. ? The supplied seat does not have enough room to move back to feel comfortable
WHAT A TRIKE !!!
This is an excellent trike. Smooth ride. Manly looking with fat tires. Directions to complete putting it together were easy to follow and complete.
Get Up and GOOOOOOOOOOO!
I have had my trike two weeks now and we are still getting to know each other. I find this trike most enjoyable and of good quality. Getting to really LOVE it!
Easy to ride?
I''m 60 and handicapped. I'd like to get exercise, but use electric assist on inclines. How difficult is pedaling in the manual position? Also, I need clip on shoes. Do y'all think this sounds like the trike for me?