In the era of sustainable mobility, electric tricycles are emerging as a significant and environmentally responsible means of transportation. These distinctive bikes provide exceptional comfort for urban commutes, leisurely rides, or everyday errands by combining the advantages of an electric bike with the steadiness of a tricycle. Furthermore, in light of the dynamic nature of urban mobility and the growing emphasis on mitigating carbon emissions, electric tricycles have established themselves as a viable and environmentally conscious option. 
This comprehensive review will thoroughly examine the reasons behind the Maxfoot MF-30's position as the most economically advantageous electric tricycle in the contemporary market.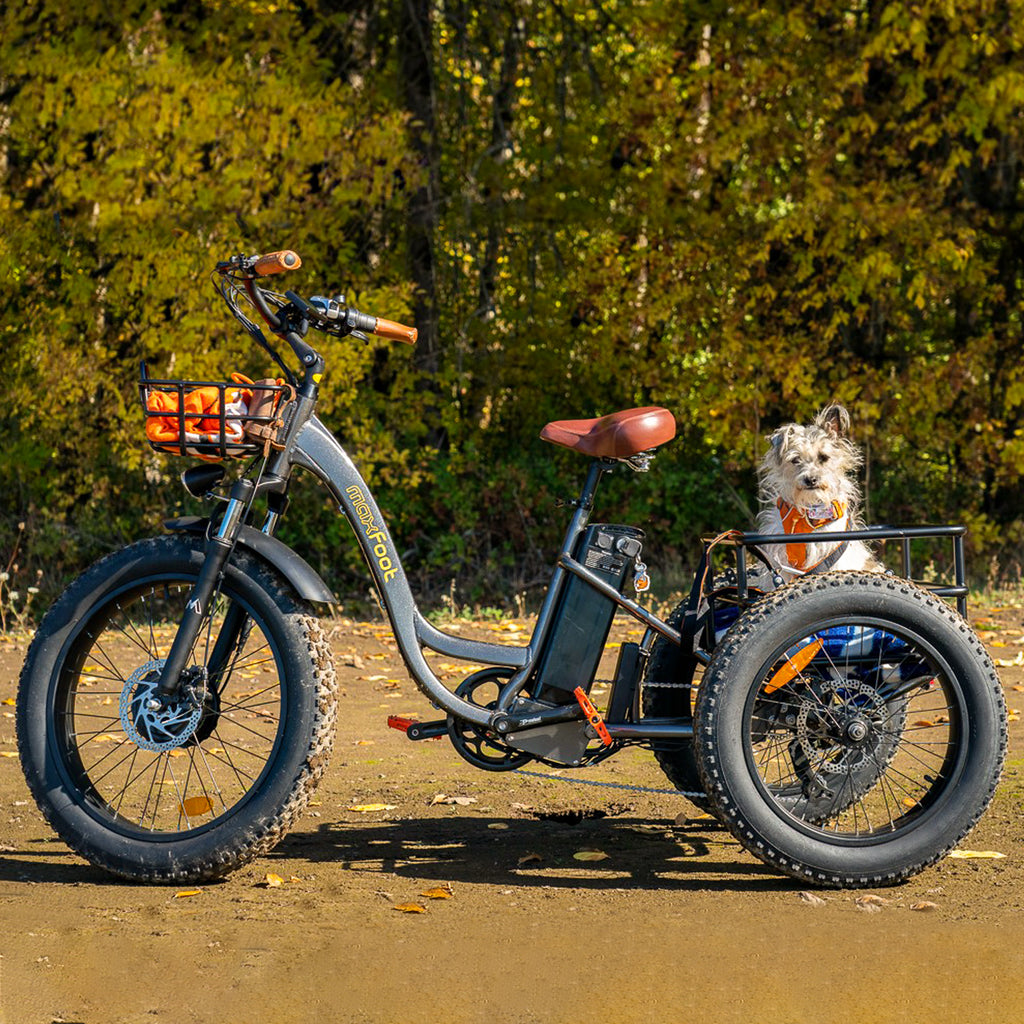 1.
Maxfoot MF-30 Electric Trike
Priced competitively at $2399, the Maxfoot MF-30 demonstrates exceptional performance within the domain of electric tricycles.  The battery used in this trike is a SAMSUNG 48V 17.5AH Lithium version, which guarantees durability and reliable functionality over an extended period of time. 
Coupled with a 750W Brushless Bafang Geared Hub Motor, this product offers a smooth commuting experience, especially when faced with difficult terrains.  The use of a dual-frame design including 6061 and 7A19 Aluminium-Alloy materials contributes to the enhancement of structural integrity in the trike, therefore enabling it to endure frequent usage while simultaneously preserving its aesthetically pleasing appearance. 
The tires of the vehicle are carefully dimensioned, including a front tire with a diameter of 24 inches and a rear tire with a diameter of 20 inches.  This sizing choice effectively achieves a harmonious equilibrium between the vehicle's mobility and stability. 
The electric bicycle's power-assisted system (PAS) has a mileage capacity of 50-65+ miles on PAS 1, making it an ideal choice for extended rides or many small journeys over the course of a week.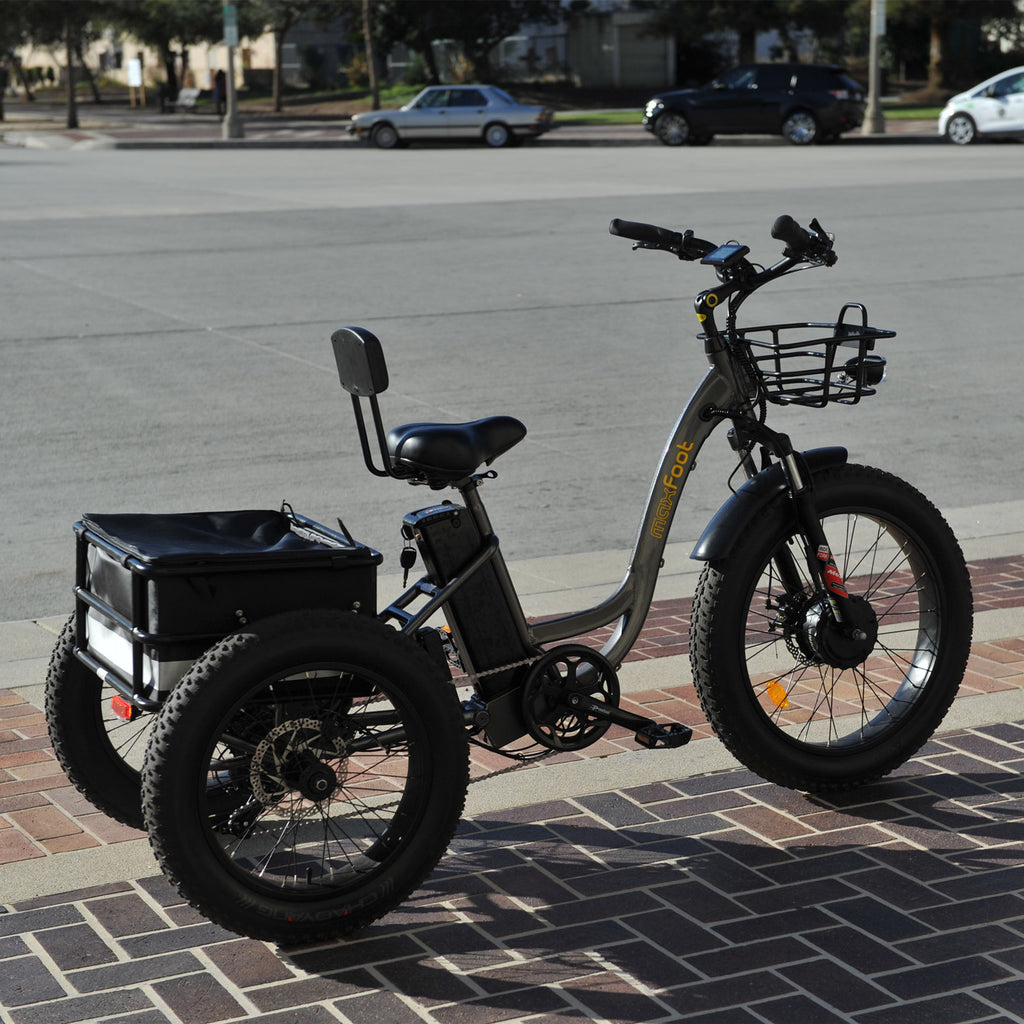 Finally, the notable capacity for carrying loads on this vehicle enables riders to transport necessary items effortlessly, making it a pragmatic selection for both recreational and functional purposes. 
2.
Eunorau New Electric Trike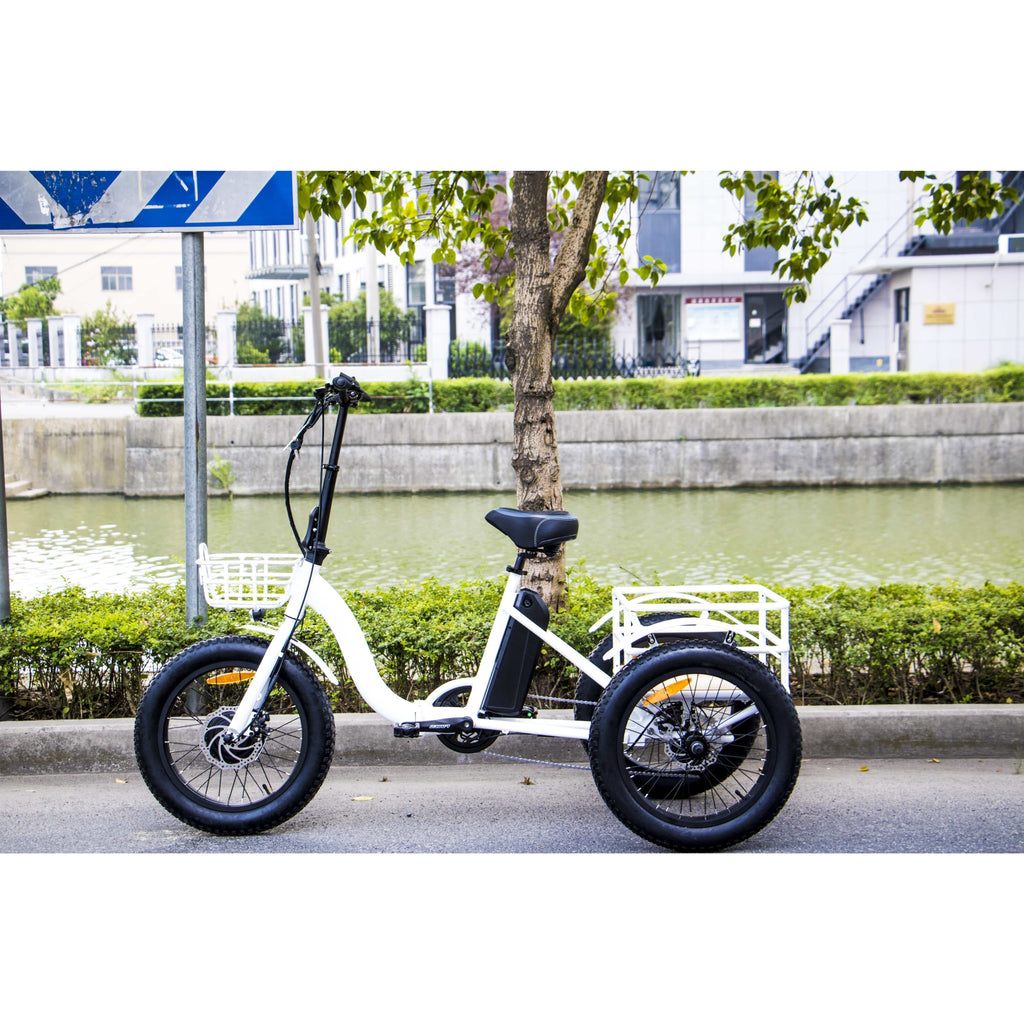 The Eunorau New-Trike, which is available at a price point of $2499, may be classified as a mid-range product due to its commendable qualities.  The SAMSUNG 48V 17.5AH Lithium Battery provides a dependable energy supply for riders. 
Despite the seemingly tiny power output of its 500W front hub motor, it effectively fulfils its intended function.  The 6061 Aluminium alloy Frame provides a blend of robustness and visual attractiveness.
The CST 20" x 3.0" tires exhibit commendable durability and provide reliable traction. 
The range of this particular item is very limited, measuring around 30-40 miles. 
The maximum load capacity of 440 lbs guarantees its capability to efficiently tackle a wide range of jobs, establishing it as a well-rounded tricycle in terms of both specs and cost.
3.
Emojo Caddy Pro Electric Trike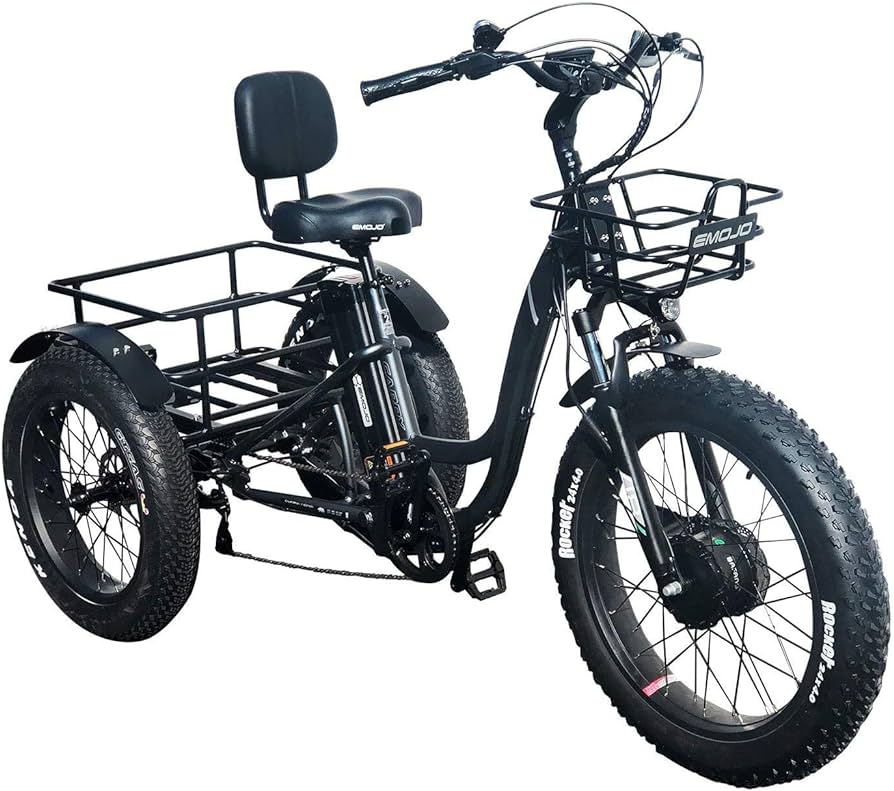 Priced at $2599, the Emojo Caddy Pro has a range of distinctive attributes.  The lithium battery used in this system has a capacity of 15.6Ah and operates at a voltage of 48V. The battery does deliver a significant amount of power despite its compact size, so it is worth considering despite its compactness. 
Furthermore, the 500W Bafang Brushless Motor works in conjunction with the battery to enhance the overall performance of the system. The use of this combination guarantees that the tricycle does not experience a lack of power. 
The frame is constructed from Aluminium, so guaranteeing its durability and low weight.  The tire parameters, particularly the 4.0 width, have been specifically engineered to provide grip over a variety of terrains.  Nevertheless, the electric vehicle's range is restricted to a mere 35 miles, solely relying on throttle power, rendering it more appropriate for shorter commuting distances. 
The maximum load capacity of this item is around 330 pounds, which falls within the lower range but is suitable for regular use.
4.
ADDMOTOR Motan Electric Tricycle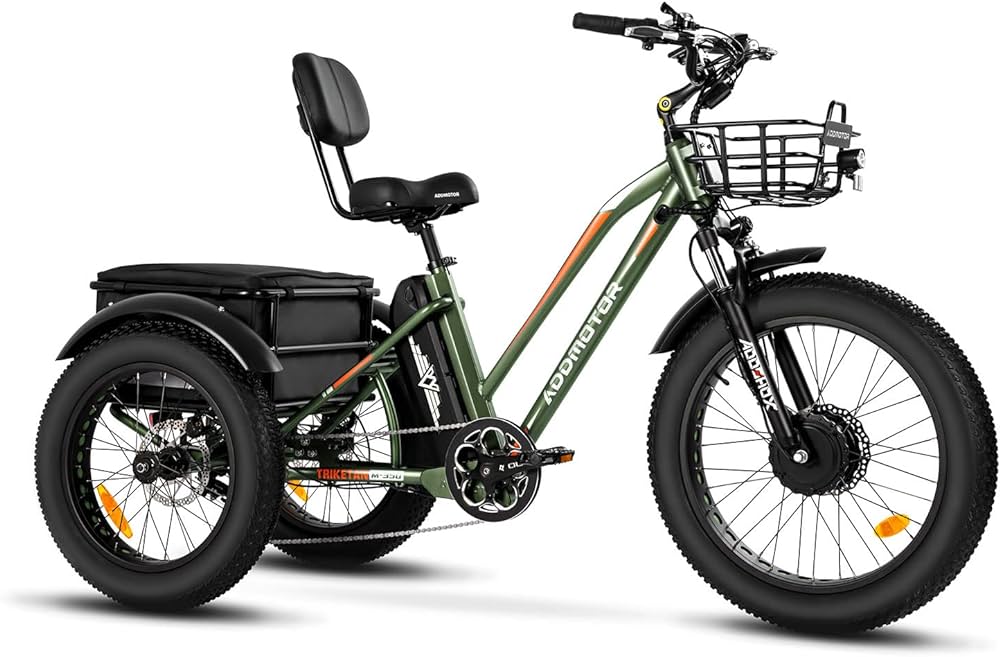 With a price tag of $2799, the product from ADDMOTOR may seem to be quite expensive; nonetheless, it is accompanied by a range of features that justify its cost. 
The use of 48V20AH Lithium Batteries in conjunction with the Bafang 48V750W Front Hub Brushless Motor offers the potential for prolonged journeys, resulting in a very formidable mode of transportation. 
In addition to its high durability and corrosion resistance, the 6061 aluminium frame is known for its exceptional strength.  The tires, with dimensions of 20" X 4.0", provide enhanced stability and are capable of effectively navigating challenging terrains. 
The notable characteristic of this product is its extensive range of 85 miles when using PAS 1, a feature that is exceptionally noteworthy and particularly advantageous for those who prefer to minimize the frequency of charging. 
With a load capacity of 450 pounds, this tricycle has one of the largest capacities available, thereby enhancing its versatility.
5.
MALISA Electric Trike
MALISA, an electric tricycle on the market, is positioned as a luxury product with a price tag of $2799. The 13AH Li-ion battery, albeit comparatively smaller than some rivals, offers satisfactory endurance for riding purposes. 
The BAFANG 48V 750W motor provides users with sufficient power for their riding needs.  Constructed with an Aluminium alloy frame, this product provides a combination of robustness and reduced weight for enhanced user convenience. 
The tire shape used in this particular model is identical to that of the Maxfoot, a well-recognized benchmark for achieving the best performance within this specific category. The range of MALISA, which may reach up to 50+ miles with pedal help, is considered significant and sufficient for the majority of users. 
An impressive feature of this product is the impressive 440 lb maximum load capacity, which is a noteworthy characteristic of this product. This substantial weight limit allows for the comfortable transportation of both the rider and any supplementary goods.
Affordability Meets Performance: The Maxfoot MF-30 Advantage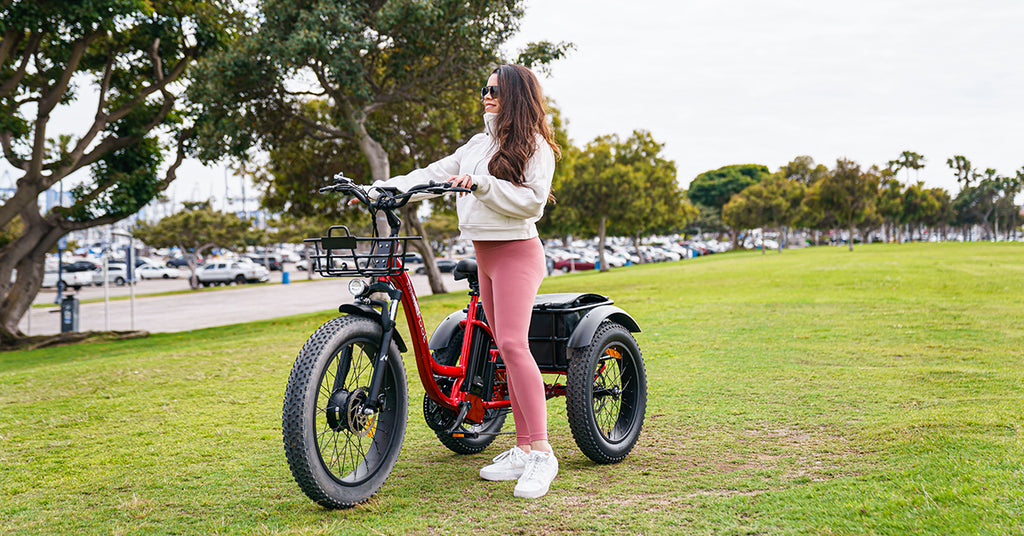 The electric mobility sector is teeming with new developments, and the MF-30 is at the front of this movement. It is a tribute to Maxfoot's drive to redefine value since it comes with a slew of cutting-edge capabilities, yet it is priced in a way that many people are surprised by. 
The landscape of e-trikes is littered with possibilities, but the MF-30 is one of the few that offers the alluring combination of an accessible price point with cutting-edge technology. It's not just about making another electric tricycle; it's about paving the way for a movement in which high-quality solutions for e-mobility are priced affordably for the common customer. The future of inexpensive e-triking is not only bright; with the MF-30, it is already here.
Maxfoot MF-30: A Reviewer's Dream Come True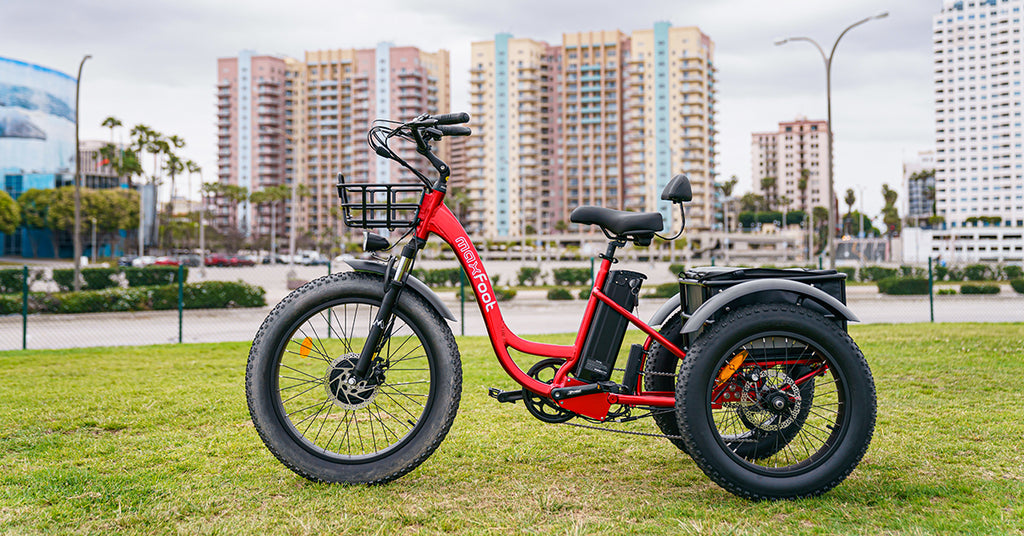 Navigating through the intricate features of the Maxfoot MF-30 feels like unearthing treasures one after another. Designed meticulously with the rider in mind, it's evident that Maxfoot has left no stone unturned to make the MF-30 the epitome of e-trike excellence. In addition to these features, each has its own unique value, ensuring a comfortable, efficient, and safe riding experience for you. Let's delve into these standout characteristics:
Throttle Control: Offers variable speed control with a user-friendly 1/2 twist throttle, providing riders with precise control over their speed.
Display: The product has a dynamic 5-inch LCD display, which effectively provides riders with comprehensive information in a single look. Plus, the added USB port brings convenience to the forefront.
Controller: The device is outfitted with a durable 25A waterproof controller, which guarantees superior functionality even under adverse circumstances.
Integrated Wiring: The water-resistant connectors and wiring harness highlight Maxfoot's dedication to quality and durability.
Brake System: Prioritizes safety with dual power-off brake levers and ensures impeccable stopping power with 180mm disc brakes both at the front and rear.
Chain Puller: Enhances the riding experience with the Shimano 7-speed gear chain puller, allowing for smooth transitions between speeds.
Charging and Battery Life: A reasonable charging time of 6-7 hours sets the stage for a battery life that's rated for an impressive 800 charge cycles, ensuring longevity and countless adventures.
Conclusion
Upon doing a comparative analysis of the Maxfoot MF-30 Electric Trike and its counterparts, it becomes evident that the former exhibits a remarkable level of value. In addition to its competitive pricing, the product under consideration has notable advantages across several dimensions, including range, battery quality, and motor power.
After evaluating the range of features and pricing of the electric trikes, the Maxfoot MF-30 stands out as the most economically advantageous choice. In terms of cost-effectiveness, the Maxfoot MF-30 stands out as the obvious victor among its counterparts since it is priced lower than other models despite their differing characteristics.
Recommendation
The Maxfoot MF-30 is strongly recommended for anyone seeking to purchase an electric tricycle. The optimal selection is determined by a confluence of factors, including cost-effectiveness, comprehensive functionalities, and the reliability associated with reputable component manufacturers such as Samsung and Bafang. If one is seeking a transportation option that is characterized by efficiency, affordability, and reliability, the Maxfoot MF-30 might be a suitable choice.